Samsung S6 Edge Plus Glass Repair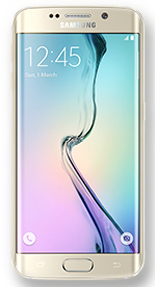 I Fix Cracked Screens can fix broken Galaxy S6 Edge Plus screens and other damage, even though the device is brand new. How? Because when new smartphones, tablets and even phablets are released, we learn the ins and outs of them. We learn to take them apart and put them back together, allowing us to quickly solve problems when customers present them to us.
Were you admiring the amazing-quality photos on your Galaxy S6 Edge Plus when suddenly it took a plunge to the hard ground? Did you pick it up, hopeful that the screen was resilient enough to withstand the fall, only to be disappointed to discover that the clear display was replaced with a web of shattered glass? If this happened to you, don't assume you need to go spend a big chuck of money replacing the device. Just bring it to our experts, because we can swap out the screen with a new, functional one for you.
Locals use us for:
S6 Edge Plus screen replacement
Camera repair
S6 Edge Plus broken glass replacement
Button repair
Charging port repair
LCD replacement
Water damage repair
Headphone jack repair
And more!
Often times, repairs only take us a few quick minutes to do. This, of course, depends on what the damage is, and what device you are having us fix. We will be able to tell you upfront how long the repair will take, and you can enjoy taking a nice, relaxing walk while you wait. You can always set up an appointment with us if you have a time in mind.
We make things easy, whether you need a broken S6 Edge Plus fixed, or just need a free diagnostic check. Give us a call to find out more about why you should use us, today.